11 ott, 2017
L'elettrica DS E-Tense Concept fa il debutto dinamico in Gran Bretagna con una visita notturna al Centro Commerciale di Westfield con Sam Bird al volante, fino al DS Urban Store
DS E-Tense è la prima automobile a circolare all'interno del centro commerciale Londra Westfeld
Fonte: DS Automobiles UK
Londra, Gran Bretagna. 10 Ottobre 2017. In una speciale pellicola celebrativa, DS ha riunito quattro dei suoi asset più brillanti: DS E-Tense, DS Urban Store Westfield London, il pilota della DS Virgin Racing Sam Bird e un ruolo speciale di cameo con il prossimo DS 7 Crossback – il SUV di DS Automobiles.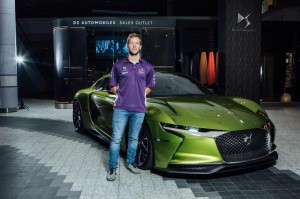 DS Automobiles ha collaborato con Westfield London a Shepherd's Bush – la location del suo DS Urban Store di punta – per tirare fino a tarda notte di shopping a nuovi livelli grazie all'autorizzazione speciale per guidare la vettura elettrica GT Concept di elevate prestazioni – DS E-Tense all'interno dell'impianto premium. La squadra di Brand Ventures di Westfield ha lavorato a stretto contatto con DS Automobiles, concedendo una speciale l'autorizzazione per Bird di guidare l'auto elettrica DS Concept E-Tense elettrica ad alte prestazioni GT entro l'orario di chiusura.
Dietro il volante del Concept DS elettrico c'è stato il pilota della DS Virgin Racing di Formula E, Sam Bird, che ha guidato la DS E-Tense intorno all'esterno di Westfield London durante la note, segnando così il debutto dinamico dell'auto nel Regno Unito, tutti registrato in una ripresa del suo "lock-in".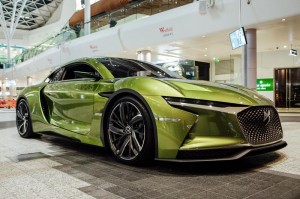 L'azione ha anche segnato la prima volta che un'auto era stata guidata in tutti i centri commerciali della prestigiosa destinazione, rendendola una vera e propria anteprima per DS Automobiles con DS E-Tense. La silenziosità, l'emissioni zero e l'autovettura elettrica era il veicolo perfetto per Sam, il cui lavoro quotidiano è in competizione con la macchina da corsa DSV completamente elettrica, mentre ha preso la DS E-Tense per un passaggio segreto tra i negozi e punti di vendita all'interno di Westfield London.
Svelata al Salone di Ginevra del 2016, la DS E-Tense, unisce la tecnologia e il design all'avanguardia con le sue linee fluide e lo stile unico, il concept evoca un desiderio di essere guidato.
DS E-Tense rappresenta l'apice del know-how di DS Automobiles, la tappezzeria superiore, il colore corporeo metallico verde ametrico esclusivo e i proiettori LED Vision, gioiello di design, riflettono perfettamente lo spirito d'avanguardia e la connessione con il mondo della moda che è sinonimo del marchio DS. Le luci di marcia diurna accentuano lo sguardo espressivo dell'automobile e ispirano all'originale iconica DS del 1955, gli indicatori posteriori sono integrati nel tetto. Infine, impostando la tendenza dei futuri modelli DS, le luci posteriori di DS E-Tense, dotate di tecnologia full LED. Misurando 4,72m produce 516Nm di coppia, 402hp e zero emissioni.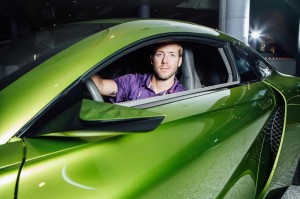 La DS E-Tense offre una propulsione pulita, silenziosa, efficiente e potente.
Dal 2015, DS Automobiles ha sviluppato un forte legame con Westfield London. Il centro commerciale di lusso, situato a Shepherd's Bush, ospita oltre 300 rivenditori di moda (High St to Luxury), il tempo libero e l'intrattenimento, tra cui più di 30 marchi premium e di lusso all'interno del Village – uno spazio di lusso in continua evoluzione. È diventata la destinazione ideale per il primo DS Urban Store, un nuovo concept boutique DS abilitato digitalmente.
DS Urban Store invita i visitatori ad esplorare lo stile di vita del marchio parigino in una delle destinazioni di shopping premium di Londra. Il suo scopo è quello di promuovere il marchio ai potenziali clienti DS in un luogo dove trascorrono regolarmente il tempo libero. Lo spirito d'avanguardia del design, presente in ogni modello DS, si allinea con alcuni dei nomi più lussuosi del mondo della moda che si trovano a Westfield.
Paul Buttigieg, Direttore di Operazioni di Westfield, ha dichiarato:
"Ci piace offrire il vantaggio ai nostri partner per aiutarli a creare contenuti innovativi in modo da guidare la consapevolezza e le vendite. Dare a un pilota di alto livello la luce verde per fare un giro in uno dei nostri centri è stata una vera anteprima ma avendo costruito una relazione così positiva con DS Automobiles negli ultimi anni abbiamo voluto aiutarli a creare un momento di standout per segnare il debutto in Gran Bretagna della DS E-Tense".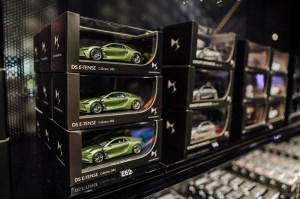 Sam Bird, che è entrato nella sua terza stagione con la DS Virgin Racing, ha ottenuto cinque vittorie e nove posizioni sul podio, rendendolo il terzo pilota a segnare la maggior quantità di punti in Formula E, una delle poche persone che hanno guidato la DS E-Tense completamente elettrica in località come Parigi e Monaco e ora per la prima volta nel Regno Unito. Bird è un pilota del campionato di Formula E ed ha vinto la prima corsa a New York nel mese di luglio.
Oltre alla DS E-Tense, Bird ha anche guidato la DS 7 Crossback, il SUV di DS Automobiles. Il SUV combina le più recenti innovazioni tecnologiche come DS Active Led Vision, DS Active Scan Suspension e DS Connected Pilot, con il sapere parigino del marchio che introduce livelli elevati di comfort e prestazioni di guida.
In English
DS Virgin Racing driver, Sam Bird, takes DS E-Tense electric GT Concept Car for a secret spin inside Westfeld London
All electric DS E-Tense Concept Car makes UK Dynamic Debut, with a nocturnal appearance
DS Virgin Racing driver Sam Bird drives the electric GT car around Westfeld London… and location of the flagship DS Urban Store
DS E-Tense is the first car to be driven throughout the malls of Westfield London – with no one around
New DS7 Crossback has a dynamic cameo role
Source: DS Automobiles UK
London, UK. 10th September 2017. In a special celebratory film, DS has brought together four of its brightest brand assets – DS E-TENSE, DS Urban Store Westfield London, DS Virgin Racing driver Sam Bird plus a special cameo role with the soon-to-be-launched DS 7 CROSSBACK – the SUV from DS Automobiles.
DS Automobiles has teamed up with Westfield London in Shepherd's Bush – the location of its flagship DS Urban Store – to take late night shopping to new levels by being granted special permission to drive the high-performance electric GT Concept car – DS E-TENSE inside the premium facility. Westfield's Brand Ventures team worked closely with DS Automobiles on the activation, granting special permission for Bird to drive the high-performance electric GT Concept car DS E-TENSE indoors after closing time.
Behind the wheel of the all-electric DS concept was DS Virgin Racing Formula E driver, Sam Bird, who drove DS E-TENSE around the inside of Westfield London at night, and in doing so marked the car's dynamic debut in the UK, all recorded in a filming of his 'lock-in'. The drive also marked the first time that a car had been driven throughout the malls of the prestigious retail destination, making it a real moment-in-time for DS Automobiles with DS E-TENSE. The silent-running, zero emissions, all-electric concept car was the perfect vehicle for Sam, whose day-job is racing the all-electric DSV race car, as he took DS E-TENSE for a secret spin past high street to high-end shops and sales outlets inside Westfield London.
Unveiled at the 2016 Geneva Motor Show, the head-turning DS E-TENSE unifies state-of-the-art technology and avant-garde design with its flowing lines and unique styling, the Concept evokes a desire to be driven.
DS E-TENSE represents the pinnacle of DS Automobiles know-how, the superior upholstery, exclusive metallic green ametrine body colour, and LED Vision headlamps that are jewel-like in design all perfectly reflect the avant-garde spirit and connection to the world of fashion that is synonymous with the DS brand. The daytime running lights accentuate the car's expressive gaze, and inspired by the original, iconic DS from 1955, the indicators at the rear are integrated into the roof. Finally, setting the trend for future DS models, DS E-TENSE's tail lights, which are equipped with full LED technology. Measuring 4.72m it produces 516Nm of torque, 402hp and zero emissions. DS E-TENSE delivers propulsion that is clean, silent, efficient and powerful.
Since 2015, DS Automobiles has developed a strong relationship with Westfield London. The luxury shopping centre, located in Shepherd's Bush, homes over 300 retailers across fashion (High St to Luxury), leisure and entertainment, including more than 30 premium and luxury brands within The Village – an ever-evolving luxury space. It has become the perfect place destination for the very first DS Urban Store, a new digitally-enabled DS boutique concept.
DS Urban Store invites visitors to explore the lifestyle of the Parisian-born brand at one of London's premium shopping destinations. Its purpose is to promote the brand to potential DS customers in a place where they regularly spend their leisure time. The avant-garde spirit of design, present in each DS model, aligns itself with some of the world's most luxurious names in fashion that are situated in Westfield.
Paul Buttigieg, Westfield's Director of Operations, says: "We like to go the extra mile for our partners to help them create innovative content to drive awareness and sales. Giving a leading racing driver the green light to take a spin inside one of our centres was a real first but having built such a positive relationship with DS Automobiles over the past few years we wanted to help them create a standout moment to mark the UK debut of the DS E-TENSE."
Sam Bird who has entered his third season with DS Virgin Racing has secured five wins and nine podium positions, making him the third highest all-time Formula E points scorer, one of the few people to have driven the all-electric DS E-TENSE in locations like Paris and Monaco and now for the first time in the UK. Bird is a leading Formula E championship driver, having won the first-ever motor race in New York in July.
As well as the DS E-TENSE, Bird also got behind the wheel of the soon-to-be-launched, well-equipped and sumptuous DS 7 CROSSBACK, the SUV from DS Automobiles. The SUV combines the latest technological innovations such as, DS ACTIVE LED VISION, DS ACTIVE SCAN SUSPENSION and DS CONNECTED PILOT, with the brand's Parisian know how introducing high levels of driving comfort and performance.
.
Share and Enjoy